Letters from the Affair is a multi-media work that crosses the boundaries between jazz, opera and musical theater (It also has a great deal of art history in it).  Letters from the Affair tells a true but little-known story about the Dreyfus Affair and how it ended the friendship between the artists Edgar Degas and Camille Pissarro.  The work traces the relationship of the two artists from before the first impressionist exhibition until Pissarro's death in 1903.  All of lyrics to the songs in this work are taken directly from letters written by these two artists.
The piece  illustrates how Degas' anti-Semitism was at the core of the break of their friendship while also showing how Pissarro, who was Jewish, had to face anti-Semitism on a daily basis during the peak of the Dreyfus affair.  
 International Premiere in London at the Tsitsit Fringe Festival 
This October Letters from the Affair was presented in the UK three times by the Tsitsit Fringe Festival 
The first performance was a workshop at the Jewish Museum in London on Sunday, October 17.
The second performance was the London premiere at the King Alfred Phoenix Theatre.  An excerpt of that performance can be viewed in the panel on the left. 
The final performance was on Thursday, October 21 at the Stern Pissarro Gallery in London where we were surrounded by Camille Pissarro's paintings and sketches.
The London CAST and ENSEMBLE
Edgar Degas: Cantor Martin Levson
Camille Pissarro: Yoav Oved
Narrator: Maya Kay
Yair Schleider: accordion
John Macnaughton: Clarinet and Tenor Saxophone
David Chevan: bass
I'm working on a longer narrative about bringing the performance to the festival. In the meantime below are some photos from the rehearsals and performances
King Alfred Phoenix Theatre Premiere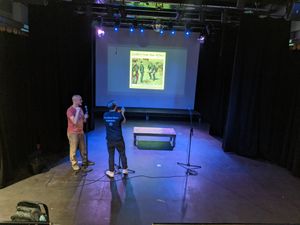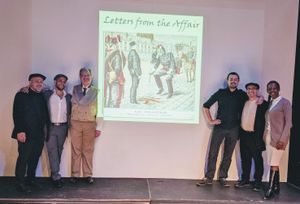 Two photos from the King Alfred Phoenix Theatre.  On the left is the theatre director Robert Messik and Matt, his tech guru.
On the right is the cast and band after the performance. L to R: Yair Schleider, Yoav Oved, Martin Levson, John Mcnaughton, me, and Maya Kay.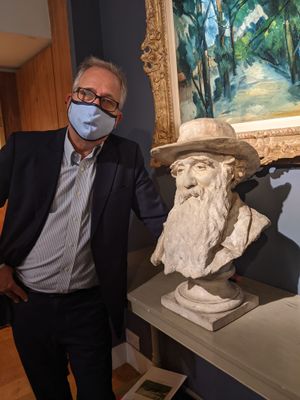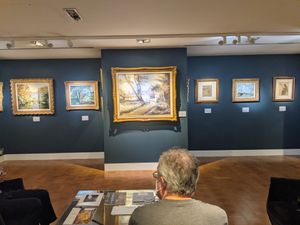 Photos from the Stern Pissarro Gallery which is owned by the Pissarro family.  I had the honor of meeting gallery owner Daniel Stern (left, by CP's bust), and working with Camille Pissarro's great-great grandson, Dotahn Pissarro.  We performed the work in the Pissarro gallery. This is a gallery filled with paintings, sketches, and etchings by Camille Pissarro, his sons, their children, and on and on to the current generation.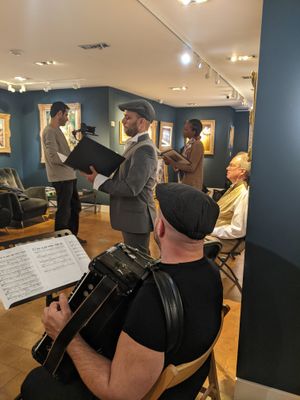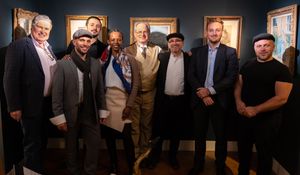 Left, the performance in progress. I probably should have been focusing on the performance, but I couldn't resist!!
Above is a photo taken after we'd finished the performance. 
L to R: Alastair Falk, director of the Tsitsit Fringe Festival, Yoav Oved, John Macnaughton, Maya Kay, Cantor Martin Levson, me, Dotahn Pissarro, and Yair Schleider