What a musical year it has been.  There were some high points and real lows.  The hardest moment this year came on June 4 when I got a call the day after playing an Afro-Semitic Experience concert and learned that Stacy Phillips had pulled over on the side of the road on his way from our concert to another performance and had a massive heart attack.  When he died many of his friends and family came together and we gave him a farewell party at Café Nine that lasted the entire day.  And while that gave us all a bit of closure, I find that every Afro-Semitic Experience and Nu Haven Kapelye performance leaves me feeling his absence and his presence.  
I've been playing on and off with Stacy since about 1997.  He was one of the first musicians to join the Afro-Semitic Experience and his presence in the band was so critical to the formulation of our sound.  He was, in his own way, incredibly open minded.  He played many different styles of music and did so in a way that both honored the musical tradition of the style he was performing and allowed for his own personality to come out in the music.  I met Stacy because we both had an interest in Jewish music.  He wrote one of the first contemporary books that included performable transcriptions of historical recordings of Klezmer and his approach to Klezmer was deeply informed by those transcriptions.  He was a stickler whenever we played one of his arrangements.  
In 1998 a group of musicians began a tradition of playing a concert of Jewish and Yiddish music on December 25, a tradition that celebrated its 20th anniversary just a few days ago.  And Stacy was a part of that group and participated in the annual concert and in the ensemble, the Nu Haven Kapelye, that grew out of this.  He arranged songs for the Kapelye and he usually spent time with the newest and youngest members of the Kapelye, encouraging them and sometimes writing special simplified arrangements as features for these new musicians.  Stacy played in the violin section on the Nu Haven Kapelye's CD, "What's Nu?"  At Stacy's request I added a name to the credits on the album.  It was his own private joke, but he allowed me in on it and if you look at the jacket of the CD you will see a name listed in the violin section, Mosheh Savitsky.  That was Stacy's sense of humor. Sometimes private and sometimes hilariously broad.  
One thing that I was struck by as I sat at Stacy's memorial concert at Café Nine was the depth and breadth of his musical knowledge and how, as a result of that, so many of us knew Stacy in genuinely different ways.  For over 20 years Stacy and I played so many types of music together: jazz, Klezmer, gospel, Yiddish songs, funk, synagogue songs, blues, Hazzonos and I don't know what else. In all that time on all of those gigs there was, at least on the surface, almost nary a moment of Bluegrass.  And yet surrounding me that day in Café Nine was a lot of Bluegrass.  And the Bluegrass people I met knew Stacy incredibly well, so incredibly well—they knew him through a lens I had not experienced firsthand. We'd had complete and genuine experiences of this musical person that could not be more different.  I know we are all complex people, but Stacy really took the cake.  Complex, smart.  Those are easy adjectives to use for him.  And for all that people knew him or felt that they knew him, he kept a lot private.  The only reason I knew his actual birth name and his birth date was because I booked the flights for the band.  Believe you me, he swore me to secrecy on that.  
The memorial event at Café Nine was documented by Brian Slattery for the New Haven Independent and you can read his great article that summarizes the day and has some videos of the music that was played here: 
https://www.newhavenindependent.org/index.php/archives/entry/stacy_phillips_memorial/ 
I've found myself sharing memories Stacy wherever I go and play with the Afro-Semitic Experience and with the Nu Haven Kapelye. But some moments are not shared, they just happen.  With the Afro-Semitic Experience I find there are moments in performance where I expect him to come in with his part and even when it isn't there, I can hear it in my mind's ear.  And we've had moments in songs where Stacy's part was supposed to come in and we all just look at each other and almost stop playing.  It's that intense.  That real. That momentary remembrance of what we had together and how musical and full of energy it was.  And then, the moment is over as one of us plays the part that was developed by Stacy and we move forward in the song.  The first time we played I wish I knew how it would feel to be free without him was probably the hardest.  When we got to the ending section where Stacy usually played a duet with our percussionist, we stopped.  We hadn't thought about what we were going to do there. We all looked at each other and we almost didn't finish the song.  Then Will Bartlett stepped up and played a brief and emotionally filled duet with Jocelyn Pleasant.  That moment stays with me. 
We recently played The Creator Has a Master Plan at the Opera House in Havre de Grace, Maryland.  We dedicated that performance to Stacy's memory. Here's a video of that performance: 
The Creator Has a Master Plan: https://youtu.be/oRyiDaFtbxU 
At the Nu Haven Kapelye's annual December 25 concert just a few days ago we dedicated many of the songs to Stacy and we played several of his arrangements for the group.  One of the songs was Stacy's arrangement of National Hora for the violins.  Ari Kagan, who had grown up under Stacy's tutelage, spoke briefly before we performed that piece. Here's a YouTube clip of that moment in the concert: 
Ari Kagan remembers Stacy Phillips and we play National Hora:  https://youtu.be/kk_kGCUouJI 
I'm going to close this remembrance with two photos.  Stacy's last gig was a concert with the Afro-Semitic Experience on June 3, 2018. I took a few candid photos while we were setting up for the concert. These photos capture some essence of Stacy that those of us played with him all knew—his humor and his seriousness are present in these last images.  He's ribbing Jocelyn as he talks to her. If he was feeling ill he sure wasn't letting on.  But that was Stacy Phillips.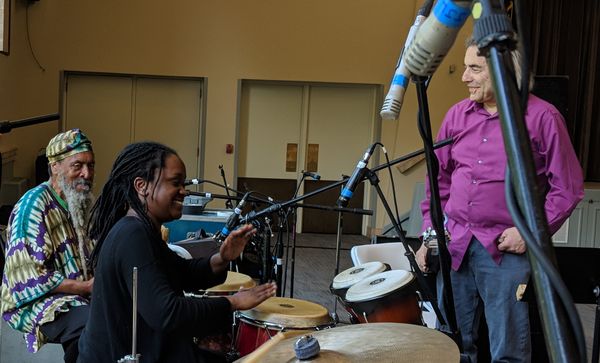 l to r: Abu Alvin Carter, Sr., Jocelyn Pleasant, Stacy Phillips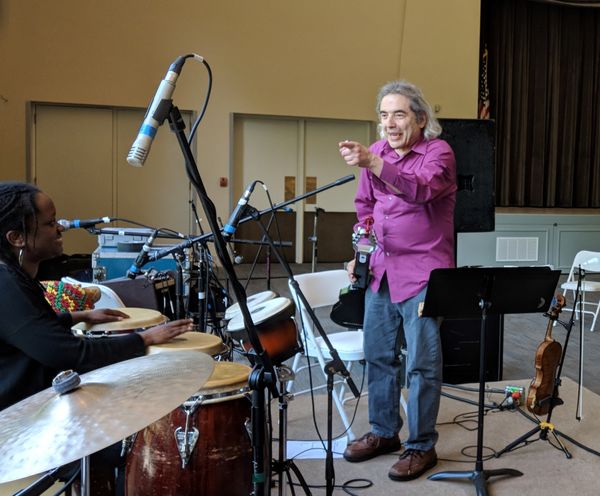 Jocelyn Pleasant and Stacy Phillips