Here's a link to my Facebook page
Welcome to my web site. Here you will find out about the various musical projects I am involved with.
Visit my ruminations and rambles page to find out what I am thinking about musically and see a few photos of recent and past gigs.  Check out the gig page to see where I am playing and with whom.  Don't forget to sign up for my e-mail list.  And click on the bookings page to find out how to book me and one of my projects.
DAVID CHEVAN: the face of the bass
Funeral information for Baba David Coleman
---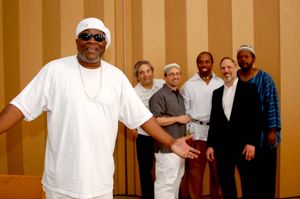 We've been in touch with Baba David's son, Olu.  He asked us to pass along information regarding the funeral. It will be livestreamed this Sunday morning, March 7, at 9:00 am, EST.  Here's what he asked us to share:
In honoring our Father, Baba David Coleman, we are truly grateful for all of the acts of kindness shown during this difficult time. Thank you for all of the calls, texts, donations and other kind expressions of sympathy.
Please join us for a virtual live-streamed celebration of life on Sunday March 7, 2021
at 9:00AM EST please follow these directions:
1.    Go to www.Calhounfuneral.com
2.    Go to Obituaries
3.    Go to Akron
4.    In the name search, enter Baba David Coleman 
5.    Click View Obituary
If you wish to send cards of condolence to the family here's the address:
Olugbala Manns-Coleman 4476 State Route 43 #5 Kent, Ohio 44240
If you wish to give a donation to help defray the costs of the funeral and support Baba's family.  Here is the link for the Go Fund Me page for Baba David Coleman: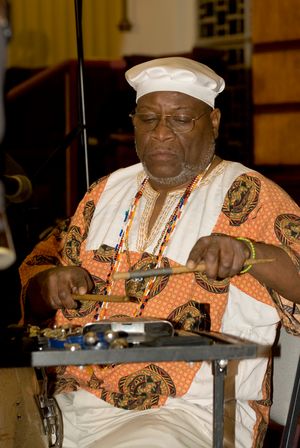 ---
This past January 15, the Friday evening of Dr. Martin Luther King, Jr. weekend, thanks to some prerecording and a lot of planning, the Afro-Semitic Experience was able to virtually participate in seven different services and concerts.   If you go to our video page you can watch some of the many performances from that evening.
We also performed a livestream service that night for a consortium of five synagogues, including Temple Ner Tamid in Brookline, Massachusetts and Temple Beth David in Cheshire, Connecticut.  We were joined by our friend, Cantor Martin Levson, who led the service and the singing. Here's a link to a recording of that service:
Here's Mazel, a recent video that features the Nu Haven Kapelye.  This video was directed by Jay Miles and features members of the group. If you look very carefully, you'll see me playing two different roles. For those who are curious, I played bass and I also wrote the arrangement.  If you like it, please tell your friends about this video!