I'm back from an extraordinary week of performing Letters from the Affair in London; a week with several near artistic disasters and quite a few small, but real triumphs. It all began back in May when Letters from the Affair was accepted for a performance at the Tsitsit Fringe festival. At the time that the work was accepted, my thinking was that we'd perform the work either live streamed or prerecorded. Then, as the summer progressed things began to open up. By the end of the summer, it became clear that it would be possible to perform this work live in front of an audience. 
Pre-travel planning and getting ready to go 
After several zoom meetings with Alastair Falk, the director of the festival, I began to lay out the logistics of rehearsing a work online.   My first decision was straightforward: I would need to play bass in the ensemble and lead the group and direct from within the show. My first job was to cast the leading roles of Camille Pissarro and Edgar Degas. I figured I could build everything else around those two performers. I knew that I would need to work with mostly London based performers. but I wasn't sure how well things would go with a completely new cast and band. Within a few days of beginning my search for the leads I discovered the difficult challenge of getting people to be involved in a project with so many moving parts. The first question I was asked by every potential cast member was, what are the performance dates? And even as late as mid-September we weren't exactly sure what those dates would be. The one thing that Alastair was sure of was that we were going to get to perform the work in the Stern Pissarro Gallery in London, a gallery owned by Camille Pissarro's great granddaughter. 
As the performance dates materialized one by one the initial candidates for Pissarro disappeared. People had commitments and could not fit this work into their existing performance schedule. I had one performer who committed to the role and then his mother took ill, and he stepped out. Another performer couldn't get time off from his day job (working at a synagogue). Yoav Oved, the person who accepted the role of Camille Pissarro was the one name that kept appearing over and over among the recommendations. I was able to watch a couple of his videos on YouTube and he seemed like he would be the right person for the part. It was his dramatic and haunting rendition El Male Rachamim that convinced me that he had something interesting and musical to bring to the part. 
What I've summarized took more time than I could have imagined. Finding a person to play the role of Pissarro wasn't easy. And I still needed to cast Degas. Without getting too deep into the weeds, I'll just say how grateful I was that Alastair and I figured out how to bring Cantor Martin Levson to London to play Degas. Martin has a very long history with this work.  He's played the part of Degas for the 2019 and 2020 seasons of the Providence Fringe and the November 2020 performance at Southern Connecticut State University. 
While I continued to put the rest of the group together, I began rehearsing with Yoav Oved via Zoom.  Here's a shot of Yoav singing and me listening: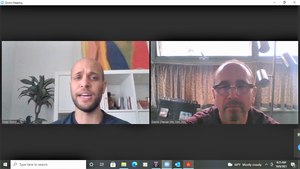 We met at least three times online and rehearsed one time with Martin. I was at my piano in Connecticut playing cues here and there, but the lag time on Zoom made it impossible to do any more than that. But Yoav has a great ear and a great voice. He began to learn the songs that Pissarro sings and I knew we were on our way.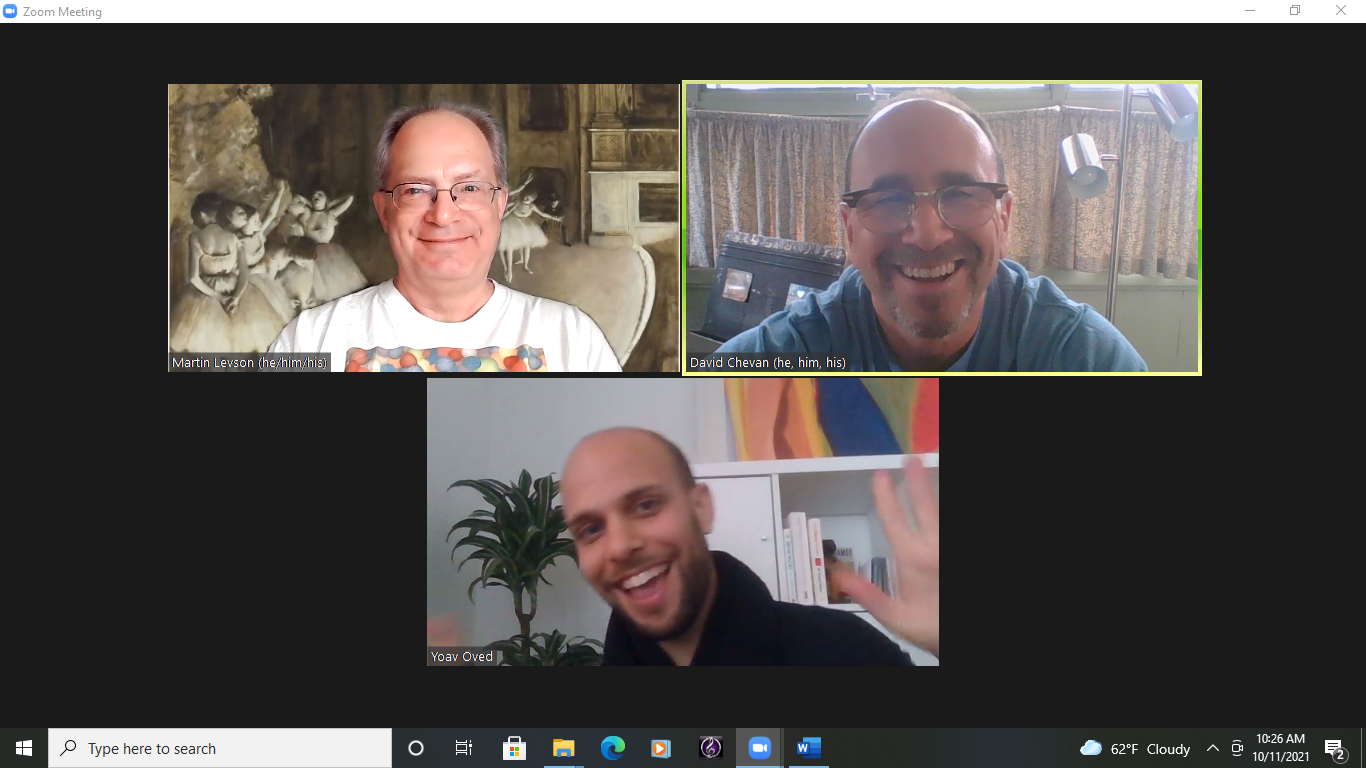 As my departure date for London grew near, I found John Macnaughton, a great reed player. But finding an accordion player who could play the various musical styles in the work was more difficult. Thanks to the help of Ilana Cravitz and several other London musicians I had a good list of names to contact. Eventually I was introduced to Yair Schleider, and he joined the team. Ilana also connected me with a string shop in London that had a wide range of basses that I could choose from to use for the week. 
I was almost all set. The only part that I had not filled was that of the narrator. But I knew I had a narrator all set for our Birmingham performance so while I was worried, I was not overly concerned. 
Thursday, October 14 
I left for London on Thursday, October 14 and landed at Heathrow on Friday, October 15. I'd like to say it was a nice easy flight, because for the most part that is what it was, but it didn't begin that way.  After we were all boarded our plane was stuck on the ground in Washington, DC for over two hours while a malfunction with some onboard system was repaired. After that, the flight was nice and easy. 
Friday, October 15 
I landed in London over two hours late with a lot to do. Fortunately, customs was fairly easy and I was able to get into London and then find my way to Golders Green, a part of London I'd never been in before where the festival was housing us.  Golders Green set the tone for my trip. My entire visit to London was filled with very Jewish moments and Golders Green, while not the only Jewish community in London, is a Jewish community filled with Kosher stores, restaurants and even a Kosher vape shop (look at where Martin is pointing and you'll see).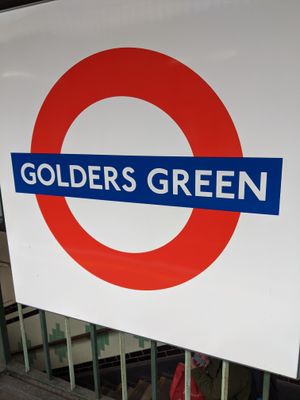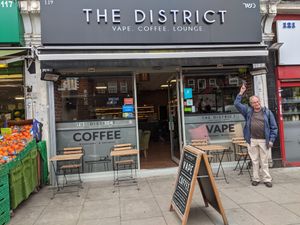 I checked into my hotel, the King Solomon, and then headed to the other side of town where a bass awaited me. I headed to a lovely luthier shop, Bridgewood and Neitzert and finally Ilana Cravitz in person (she works there part-time). She helped me to choose a bass with a great big voice and a nice overall feel (yes, I was very tempted to come home with a new instrument).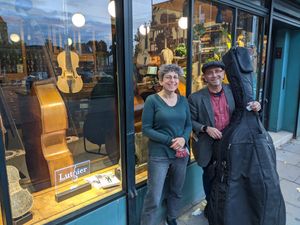 I hurried back to Golders Green where I met up with Martin Levson, who had also arrived that day. We met up at Alyth, the North Western Reform Synagogue, also in Golders Green. I also briefly reconnected with Alyth's wonderful cantor, Tamara Hope Wolfson. 
After services Martin and I had a tasty Shabbat dinner at Hosh, a Turkish restaurant and one of the few Golders Green restaurants that was open on Friday night.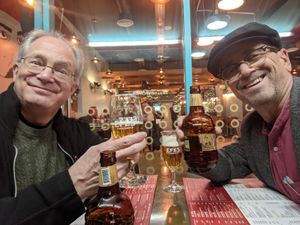 Saturday, October 16 
On Saturday we had our first rehearsal. Yair graciously offered us the use of his apartment and we ended up having all our rehearsals there. John couldn't make it, so I spent the afternoon working with both singers and Yair.  Because of our online rehearsals Yoav was far along with his part and things came together quite smoothly. Yair and Yoav play Yemeni weddings together and have done some other projects, so they already had some good chemistry. We were able to get through all the music and even begin shaping things. When I listen back to this clip from the first rehearsal, I hear both how far we got and how much farther we had to go to tightening everything up. 
We took a break during rehearsal and Yair showed us the garden outside his apartment. It was idyllic. Just like I imagined an English garden to be.  Of course, we took a few photos and here are just a few of those: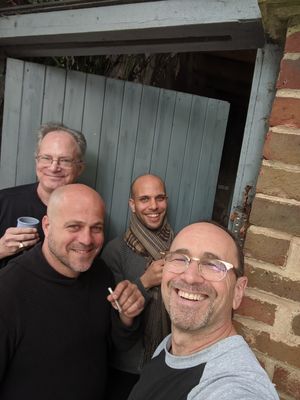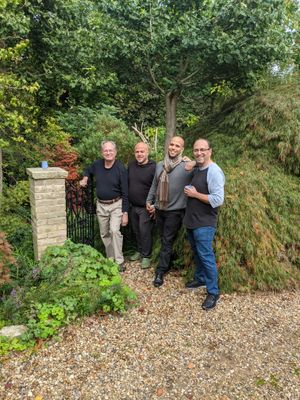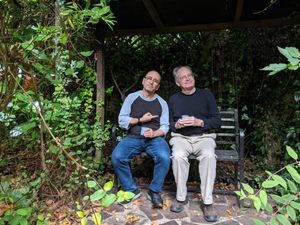 After the rehearsal Yoav took us to a little place for lunch where we had Jochnun, a traditional Yemeni dish served on the Sabbath.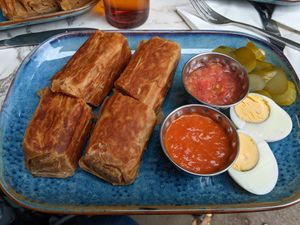 Yoav, who is Yemeni, told us that his grandmother's Jochnun was much better, but that this was a good example. This lunch was another one of those moments where I felt how distinctly Jewish this trip to England was and just how inspired I felt from the experience. Yoav shared stories about his family and growing up in Israel and Kenya. 
Meanwhile, as Shabbat ended, Martin and I headed over to the King Alfred Phoenix Theatre to see the production that evening and get a sense of where would be performing on Wednesday night.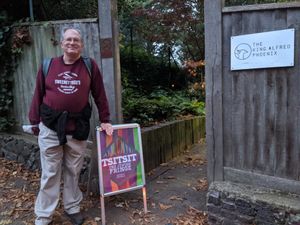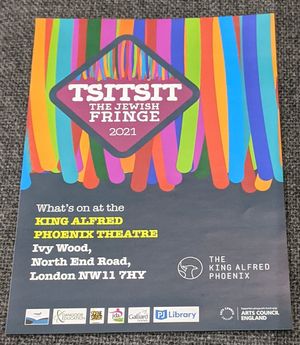 I also heard from Alastair who informed me that our plans for Sunday had completely changed. Instead of traveling to Birmingham, we were going to give our workshop performance in London at the Jewish Museum. The only problem I faced was that we still lacked a narrator for the performances. Alastair reached into his network and assured us that we would have a narrator in time for the performance at the Jewish Museum. 
Sunday, October 17 
I woke up and still had no narrator for the afternoon performance, but Alastair assured me that he was on it. Martin and I headed over Yair's apartment for our last rehearsal before the performance. Yair had told us that Sigmund Freud's London house was just down the street, so we stopped there for a moment to see it before we arrived.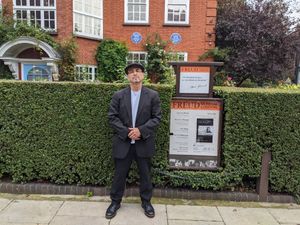 John was able to make this rehearsal and we were able to work on his parts as well as further develop the vocal parts. We were all getting into focus around the work, and it was beginning to have some shape.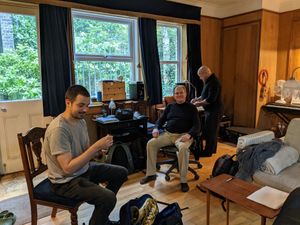 We ended rehearsal and headed over to the Jewish Museum. John, Yoav, Martin and I clambered onto a bus while Yair, who had a gig later that evening, zipped his gear over to his gig and then met up with us at the Jewish Museum. In the meantime, I'd heard from Katie, our narrator for the performance. She was coming to London by train. Could I please send her the script? I immediately forwarded her a copy of the script. When we got to the museum, we finally met Alastair Falk, the Tsitsit Festival Director, in person.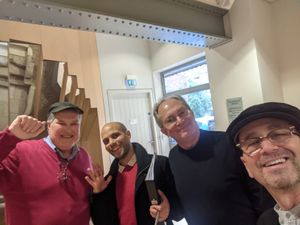 We were escorted to the room where we were giving our performance. As we arrived in the room, the sound people were in the process of removing all the sound equipment from the room and moving it to another location in the museum. It was precisely at that moment that we learned we were not going to have the expected sound reinforcement for the performance. Fortunately, there was an extra techie on the team named Tim who agreed to stay and help run the PowerPoint part of the performance. I handed Tim a copy of the script with all the slide cues and he and I went through the show in record time. Tim did a great job during the performance and later he sent me the only photo I have from that performance.  
It was getting close to performance time and Katie still hadn't arrived at the museum. We set up our instruments and did a little running through of the pieces. Without any sound reinforcement this was going to be a tricky performance to pull off. The audience started coming in and I saw that Ilana Cravitz was there with a couple of friends. 
Finally, two minutes after we were supposed to begin Katie showed up, out of breath and apologetic. She asked me for a copy of her script as she didn't want to read it from her phone. The only extra copy of the script I had with me was an earlier draft that was out of date and filled with typos. I warned Katie about that, and we all took the stage to begin the performance. The energy of performing carried us into a great realm and this workshop performance went far beyond my expectations. The chemistry between Martin and Yoav as Degas and Pissarro was fantastic and the two played off one another in ways that we'd barely explored during the rehearsals. Katie did a great job, and she managed to get through this earlier draft in a way that still kept the show flowing.  I wish I had some photos of the performance, but that was not on my mind. We had a great time and I think everyone in the group learned a lot from this performance. The conversation with the audience after the performance went in some great and lively directions. All-in-all it was an auspicious start to the week of performances. Katie was apologetic for her performance, but I really thought she did a great job and she told me that she was in for the other two performances, I just needed to send her the details.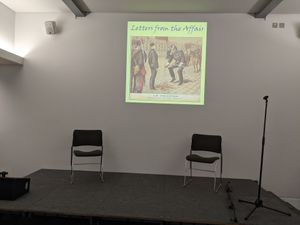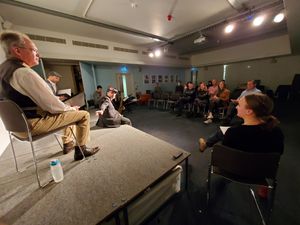 After we were finished the cast and band along with Ilana Cravitz and her friends all ended up at a nearby restaurant where we celebrated our first performance together.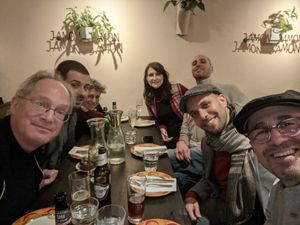 Monday, October 18 
I woke up early Monday morning to an email from Katie. Her schedule would not allow her to be a part of the Thursday performance at the Stern Pissarro gallery. Fortunately, Martin and I were already planning to have a breakfast meeting with Alastair. At the meeting we discussed getting a narrator who could do both Wednesday and Thursday performances. We then mapped out a plan for the Thursday performance at the Stern Pissarro Gallery. My job was to liaise between the gallery, the festival and the videographer that had been hired to record the performance.  We also discussed reaching out to the King Alfred Phoenix Theatre to arrange for that performance to be recorded as a sort of back up. 
After we went our separate ways, Alastair and I had a number of email exchanges around finding a narrator. We got help from several people who put out calls to various lists. Around 1:00 pm we heard from Chantal, an actress in London who was very interested in the part.  She was available for both performances and quite interested in being a part of the work. I sent her a copy of the script and connected her with Alastair. My only concern was that she was not going to be available to rehearse with us before the performances. 
I then called the Stern Pissarro Gallery and within minutes was talking with David Stern, the gallery owner. We agreed that I would swing by the next day to see the gallery space and make some decisions about how we would record the performance. After I spoke with David, I called the videographer, and we discussed our plans for making the video at the gallery. All in all, this was turning into a very productive day. 
Monday evening, we had a rehearsal at Yair's apartment. After Sunday's performance we had plenty to discuss and to clean up. It was a surprisingly smooth rehearsal. Everyone was focused and we were able to get a lot done in a short amount of time. We were all having a blast and all of the songs in the work were beginning to click.  During a break I looked at my phone. I'd gotten an email from Chantal. She had changed her mind. She was out. Once again, we were without a narrator. 
I reached out yet again to Alastair about getting another narrator. Meanwhile, everyone in the group started reaching out to people they knew. John, Yair and Yoav were both texting friends and reaching into their networks. They could not have been more supportive and helpful. After the rehearsal Yoav finally reached a friend of his, Maya Kay. I didn't know it at the time, but Maya and Yoav worked together at the Westminster Synagogue. Yoav reached Maya by phone, and they talked for a bit, then he handed his phone to me. Maya and I talked about the show, and she seemed interested in doing the performance, she asked me to send her a copy of the script. After I emailed her the script, we all headed to a nearby pub. Despite the concerns regarding the narrator things were looking pretty good.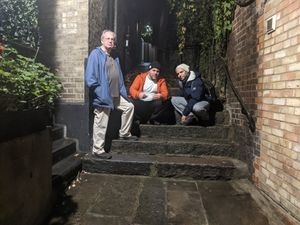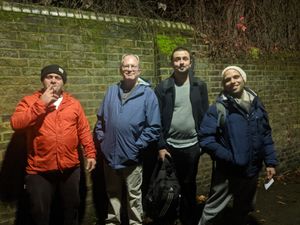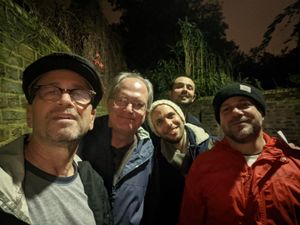 Tuesday, October 19 
Tuesday was originally going to be my free day in London, but that was no longer the plan as I needed to see the Stern Pissarro Gallery. I awoke to a very positive email from Maya.  She really liked the script and wanted to set up a time for a rehearsal. We texted back and forth while Martin and I traveled to the Stern Pissarro gallery. We decided to meet at Kent House that afternoon for a read through of the script.  
I was excited to finally arrive at the Stern Pissarro gallery. We were greeted by the owner, David Stern and we met his son, Dotahn Pissarro Stern (Camille Pissarro's great-great-grandson). David Stern showed us around the upper area, which included a bust of Camille Pissarro. He then took us down a spiral staircase to the lower gallery. The entire lower gallery was filled with works by the entire Pissarro family. I saw paintings, prints, and sketches by Camille Pissarro, his sons, their children, their children, and their children!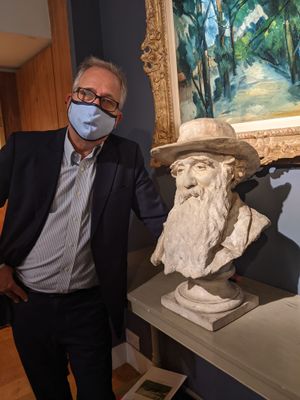 I took plenty of pictures to share with our videographer so he would have a sense of the layout of the room. David Stern discussed changing some of the pictures so that all of the images that would be seen during the video shoot would be happy by Camille Pissarro. Dotahn agreed to stay to mind things while we did the shoot. We had a plan!!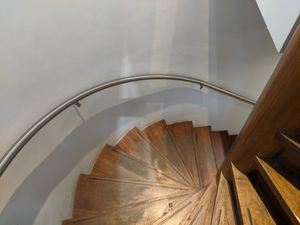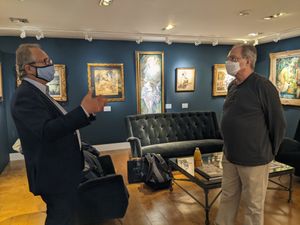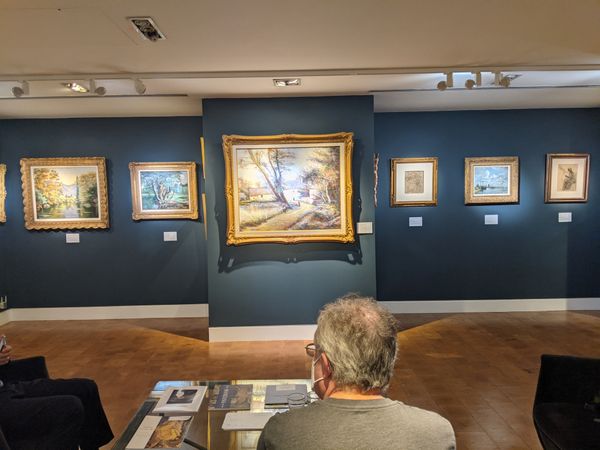 Martin and I were elated by the experience. We then headed off on foot to Kent House to meet with Maya, our new narrator. We got to see quite a bit of London before we arrived at our destination. I called Maya to come down to meet us at the door. A few minutes later, she called me to ask where we were. I told her we were standing right in front of the house come up, but she said, "No, I don't see you anywhere."  I told her that I could see the sign Kent house right in front of me and then she asked, "Did you put Kent house in your GPS or Kent house Rutland gardens?" Oops!! I didn't know that there was more than one Kent house in London!! It turned out Martin and I were a good 45-minute walk away from our actual destination. We jumped into a cab and scooted over to Kent House Rutland Gardens. When we arrived, we saw the sign Kent house on the building, and we also say saw that it said Westminster synagogue. It had never occurred to us until then that Maya and Yoav worked at the same place. Once we arrived, Martin, Maya, and I got right to work. We sat in the synagogue library and rehearsed the script from beginning to end several times. We had finally found our narrator and she was amazing. As she walked us out, Maya asked us if we were at all interested in seeing the Czech survivor Torahs. She said that she'd ask the chair of the survivor Torah committee if he could meet with us and give us a tour.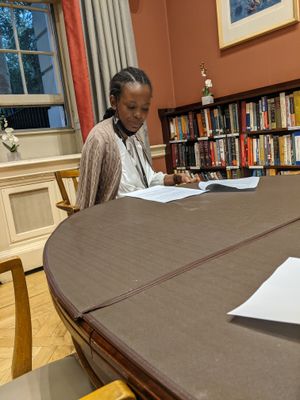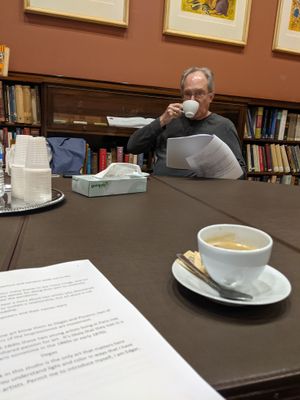 Martin and I then headed to the king Alfred Phoenix Theatre to see the performance that evening of two plays by Rob Messick, the director of the theater. We caught a night fascinating theater. Rob is a very good writer and director. It was cool that he included his father in one of the works! 
Wednesday, October 20 
Show day had finally arrived. I was in touch with Rob Messick, and we set up a time to do a tech run of the show. There were two Tsitsit Fringe shows that evening. Ours was the later performance so Martin and I made arrangements to arrive at the theater early to run through everything with Rob and Matt, the tech person.  
The day flew by. I had a phone conversation with the videographer and sent him pictures of the gallery so that he had a sense of the layout. Martin and I did a little walking in downtown London and got caught in a sudden rainstorm. I also heard from Maya. The chairman of the Memorial Scrolls Trust would meet us on Thursday morning for a tour of the Czech Memorial Scrolls Museum. 
After a quick and early dinner, Martin and I arrived at the King Alfred Phoenix Theatre. We worked with Rob and Matt on the technical issues that need to be resolved for the performance. At one point when we were working on did guys letter about going for the inhalation, I jokingly suggested that we could use the fog machine. Rob said there was no reason to kid about it, of course we could use it!! 
Everyone arrived on time, and we all set. It was showtime. The performance began and it was magical, just as I'd hoped it would be. There were no dropped lines, the songs came together, and everyone was in focus. Fortunately, Rob shot a video of the performance and I'm hoping at some point will be able to air all of it. Until then, here's a little excerpt from the performance that night. It features Yoav Oved and is one of Camille Pissarro songs to his son at the peak of the Dreyfus Affair:
When the play was over, the audience gave us an incredibly nice response. It was weird, I was so focused on the performance that I'd forgotten that this is what audiences do. I was so happy that everyone who performed so well got that support from the audience.  We'd done it!!!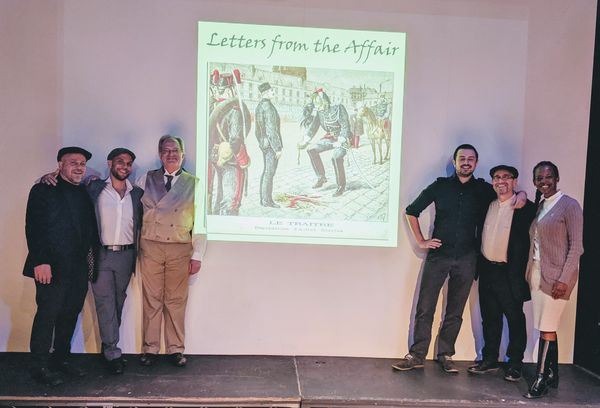 Thursday, October 21 
Thursday was our last full day in London. Once we'd made the video at the gallery we'd be done with our work in the city. I was looking forward to returning to the Westminster Synagogue to see Museum of the Survivor Torahs. Martin and I got an early start so that we would not be late. We were met at the front door of the synagogue by Jeffrey Ohrenstein, the chairman of the Memorial Scrolls Trust.  He took us upstairs to the rooms where the remaining scrolls are stored and sat us down at a large conference room table. 
"What do you know about the Czech memorial scrolls?" he asked. 
I proceeded to tell him what I had heard at both my sons' bar mitzvahs. About how the scrolls had been rescued by a British businessman. And how the scrolls had originally been taken by the Nazis to be used in a museum dedicated to presenting artifacts from the annihilated Jewish Race. 
"I'm afraid that things aren't quite as that story might seem," replied Mr. Ohrenstein. He then proceeded to tell the story of how, in 1942, a committee of Jews in Prague were responsible for collecting Jewish artifacts from across Czechoslovakia to preserve them until after the war. The story about the Nazi museum was, according to what Mr. Ohrenstein could surmise, a fiction that was invented during the Communist regime in that region. Martin and I learned about the history of Jewish Czechoslovakia and how the collection came to be.  It was transfixing. We easily spent an hour just hearing story after unbelievable story. 
Finally, we entered the Czech Memorial Scrolls Museum. It was an emotional experience so particular and so unique, so I don't quite have the right words to describe it. The first room that we entered was a vast collection of the various paraphernalia that's around the Torah. There was a display of the feathers the ink bottles and the table that one of the soferim used to repair the broken scrolls. There were vast displays of Torah binders, something I never given thought to, but they were clearly an integral not part of Jewish lives in Czechoslovakia. We saw wooden scrolls finally Mr. Ohrenstein brought us into the room with the scrolls themselves. 
These pictures tell the story far more eloquently than I ever could. Being in this room with all these scrolls rolled up some so damaged that they will never ever be unrolled again what's unlike anything I've ever experienced before. It was harsh reminder the devastation of the Holocaust is anything I'd ever experienced in my life.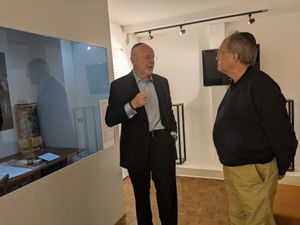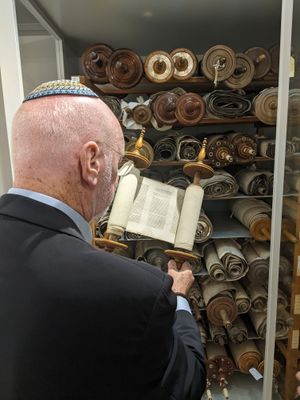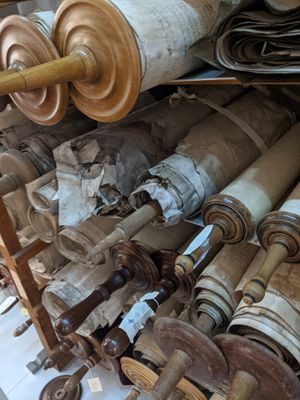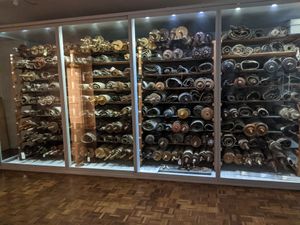 Our visit lasted just over two hours. Martin and I were both exhausted from the intensity of the experience. We headed back to our rooms to rest for the video session. 
I'd been in touch with the videographer, and we agreed to meet at the gallery at 5:00 PM. Martin and I arrived a little early and brought our gear down the stairs to the Pissarro gallery. David Stern was getting ready to go home and wished us wished us well on our performance. It was almost 5:30 when I finally heard from the videographer.  He wanted to know where we were. I told him that we were at the gallery. He wanted to know which gallery? The Pissarro gallery, I responded. For some odd and still unclear reason, the videographer had thought we were recording at the Jewish Museum, not the Stern Pissarro gallery. On the phone he told me that he could not come to the Pissarro gallery with that he quit the project. Just as he quit the rest of the group began to arrive at the gallery. 
We were stuck. It was less than an hour before the scheduled time for the video shoot, and we were without a videographer. I called Alastair and told him what was going on.  We struggled to come up with an alternate plan. The best we could come up with was to shoot the work on a cell phone. But we didn't have a tripod nor was there a tripod anywhere in the entire gallery. Alastair suggested that I head over to Piccadilly Circus (which is only a few blocks away from the gallery) and see if I could buy one from one of the shops. I immediately headed out. In the meantime, the rest of the cast and band arrived. We told them what was up and asked if they knew anybody who could help us. Maya texted a few of her friends and within a matter of minutes we had a videographer on his way over to film in the performance. It was a good thing, because the tripod I ended up getting was a piece of junk and fell apart when we tried to set it up. 
As soon as Maya's friend Cinar arrived we got to work. We set up our music stands, warmed up, tuned up and began the opening notes of the show. I think that the combination of the stress of the moment with the performance from the night before had energized everyone because we gave such a powerful performance that night in front of Pissarro's paintings and sketches. Yoav and Martin took huge risks with their singing that felt so strong and right in the moment. And there was Cinar, capturing it all on his video camera. I even snuck a photo of everyone during the performance.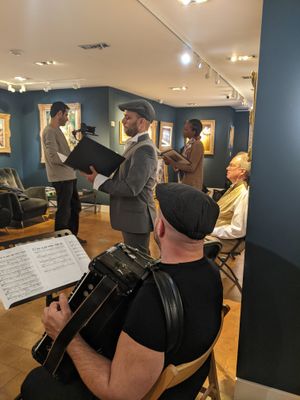 Once we got started, the adrenaline kicked in and everything flowed from beginning to end. Sure, there were a couple of mistakes here and there, but we wanted to keep that live feeling in place, and we didn't do any retakes. The energy sustained itself from beginning to end. When we were finished, we all looked at each other with big smiles on our faces.  Here's some photos from the end of our evening: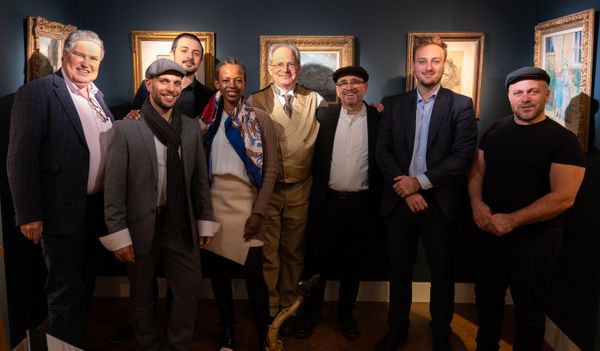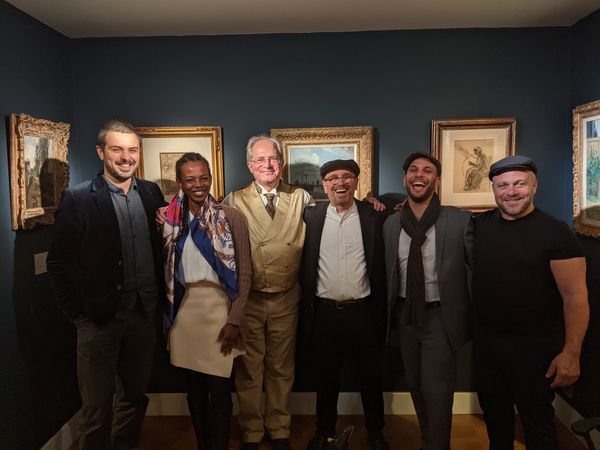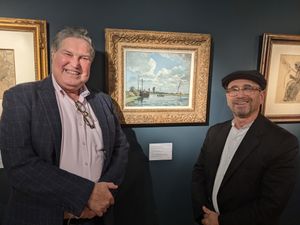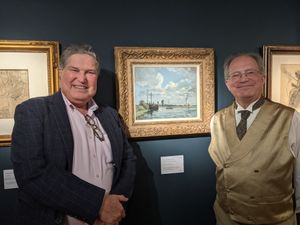 We had accomplished what we had set out to do. Maya and Alastair had to leave, but John, Martin, Yair, Yoav and I went out for a celebration dinner. No, I don't have any pictures from that meal, but you can well imagine that we were all in such good spirits. And with that, we were done. 
What a week!! I'd faced numerous challenges and had some extraordinary musical and theatrical moments. I had a week of adventures in London with a dear friend (we had so many good talks and experiences together that I left out of this already rather long narrative) and made some new friends. I'd had a distinctly Jewish London experience. And we mounted and performed a play in three locations.  All in all, this was a very good week!!! 
After returning the bass to the shop Friday morning and taking one last bus ride through the city, I headed to Heathrow.  My flight home on Friday was easy and (gladly) uneventful. I arrived in Connecticut around midnight and Julie was waiting for me at the airport. Home again!!!